If you have an Email database that you need to verify, then Email verification add on will be of great service to you. It can check the validity of the Emails you have and thus check if the Emails you are sending are actually being received by people.
How to Verify Emails?
Well, the answer to it is EVADDON's Email Verification Add on in Google Sheets. It will verify all the Emails right from within Google sheets. You do not need to enter the Emails in a separate website for this to work. How to install this add on and use it to verify the Email database will be explained below.
Open a web browser, and then open Google sheets. You will be most likely greeted by the following screen. Click on go to sheets.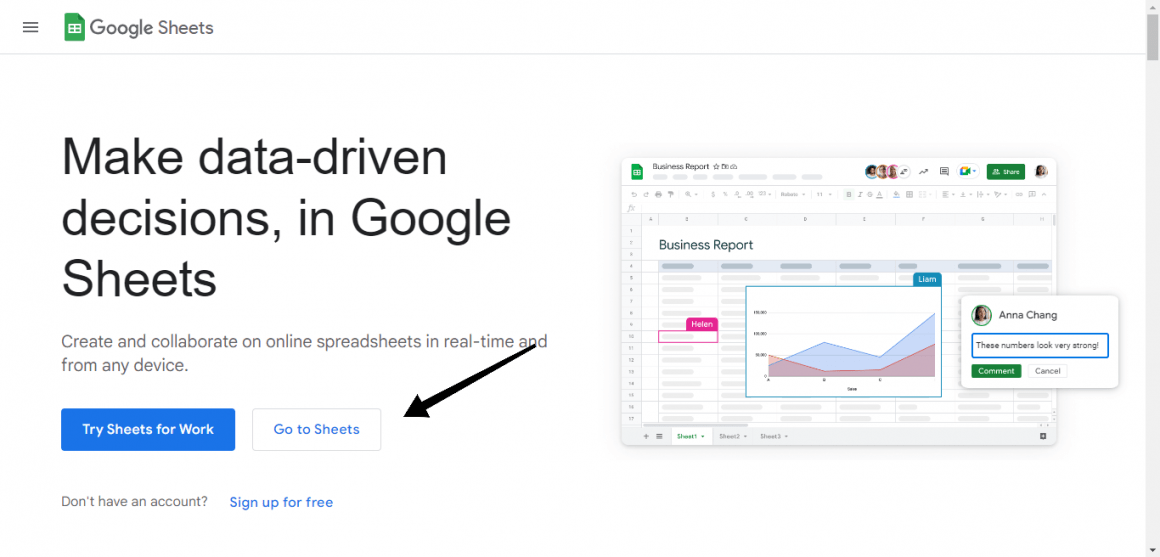 You will be asked to login with your Gmail if you have not already. If you do not have a Gmail account, you can create one.so
A screen like below shall come before you. If you already have a Google sheet filled with the Emails you need to verify, open that. If you have the lists elsewhere, you can open a blank sheet.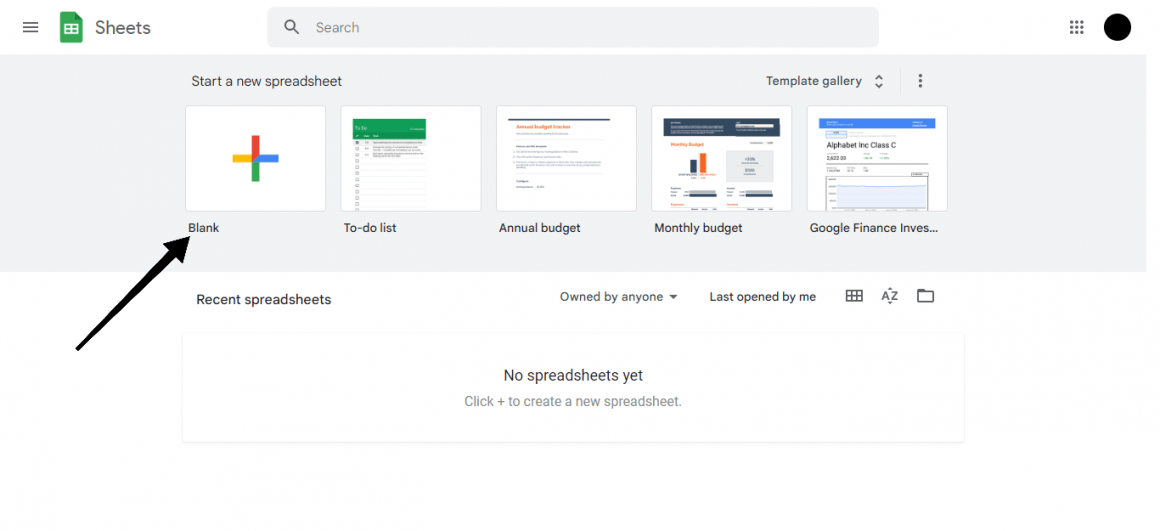 A blank spreadsheet will open. Now first we need to install the Email Verification Add on. Click on Extensions. A drop-down menu shall appear. Click on "Add-ons" In that click on "Get Add-ons".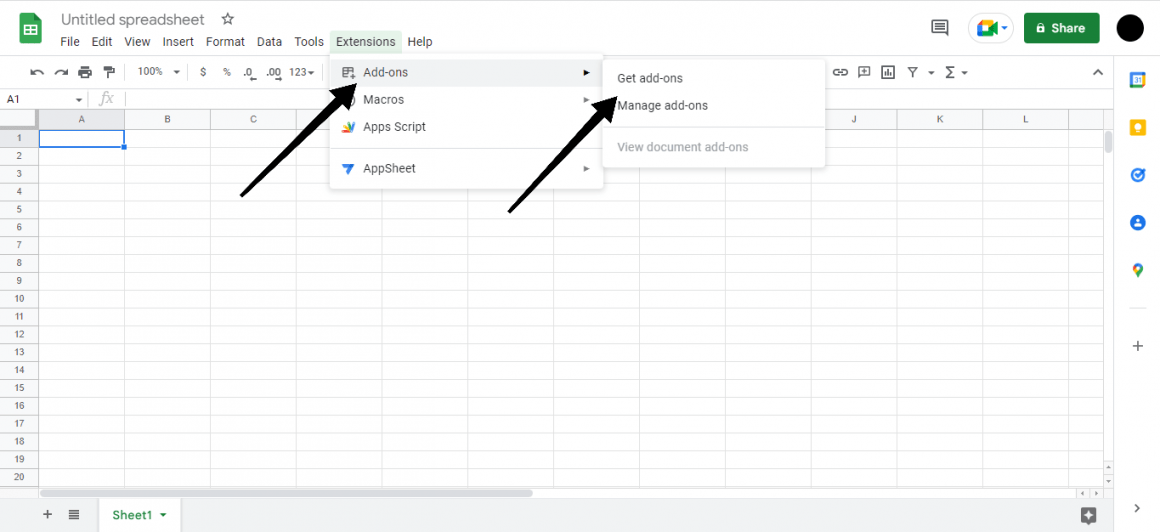 Google Workspace Marketplace will open in a separate dialogue box. In the search box, type Email Verification. The first add on that appears will say Email Verifier by EVADDON. Click on that.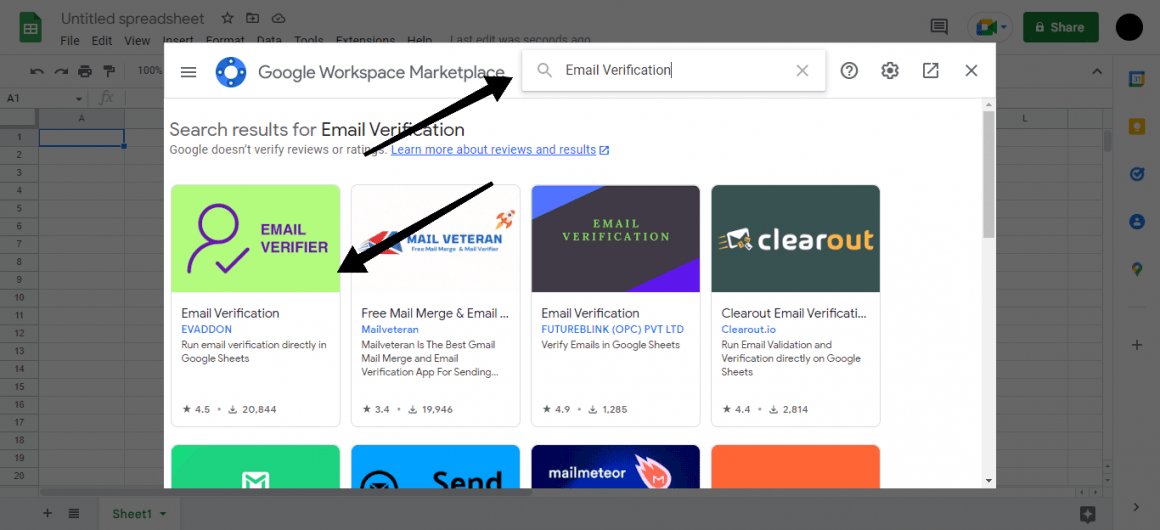 Click on install to install this add-on.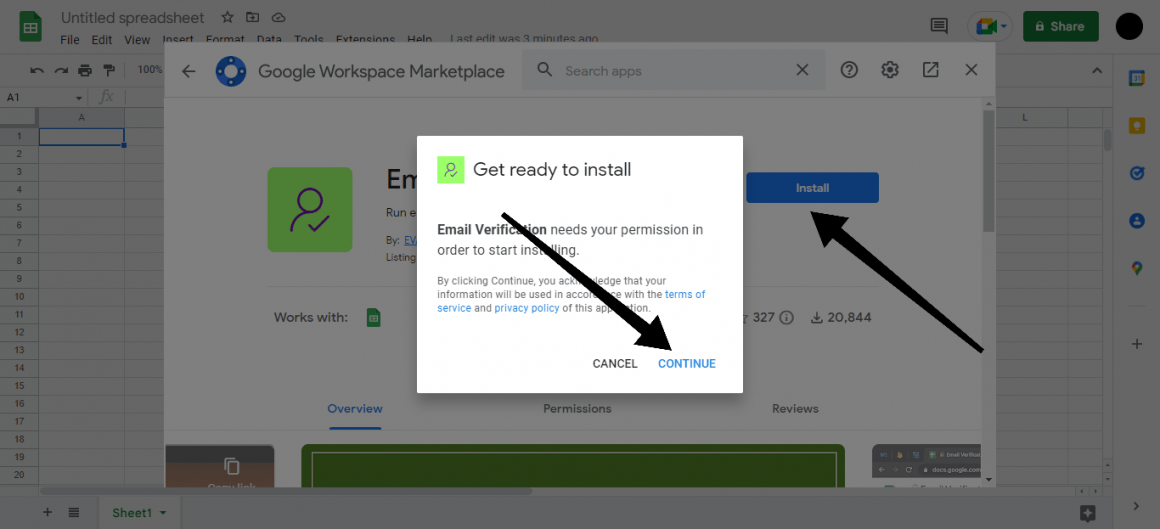 You will be asked to select a Google account with which this add on is to be associated. Choose your Gmail and allow it.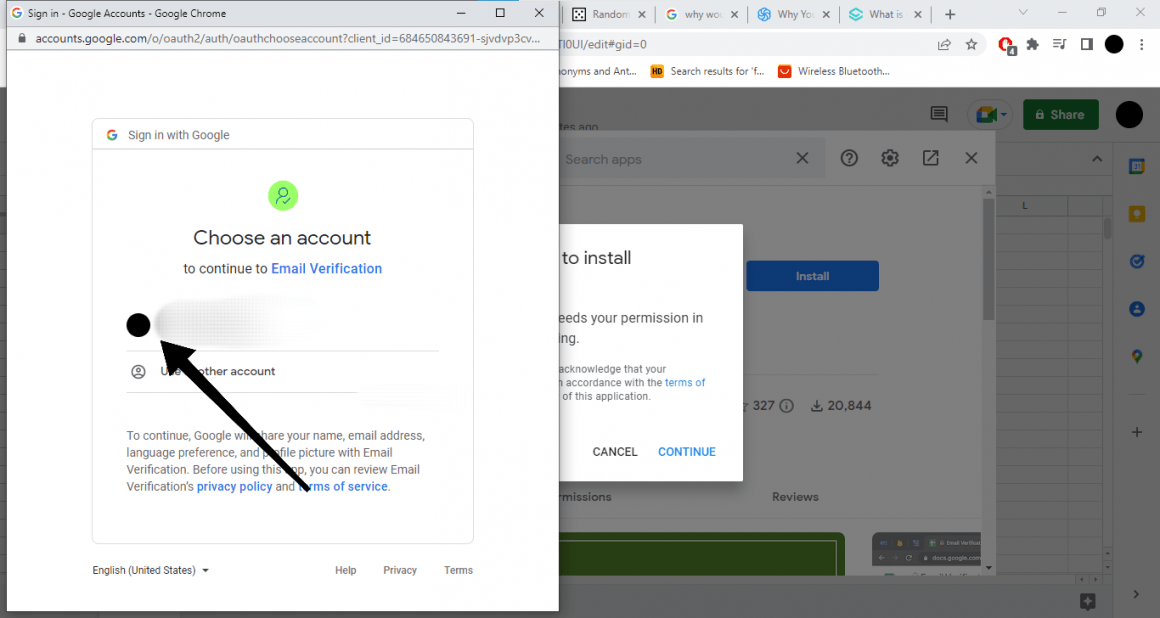 A dialogue box will appear telling you that it is installed. Click on done, close the Google Workspace Marketplace box as well. Now once again, click on Extensions, at the bottom, you'll see Email Verification. Click on it and then click on open.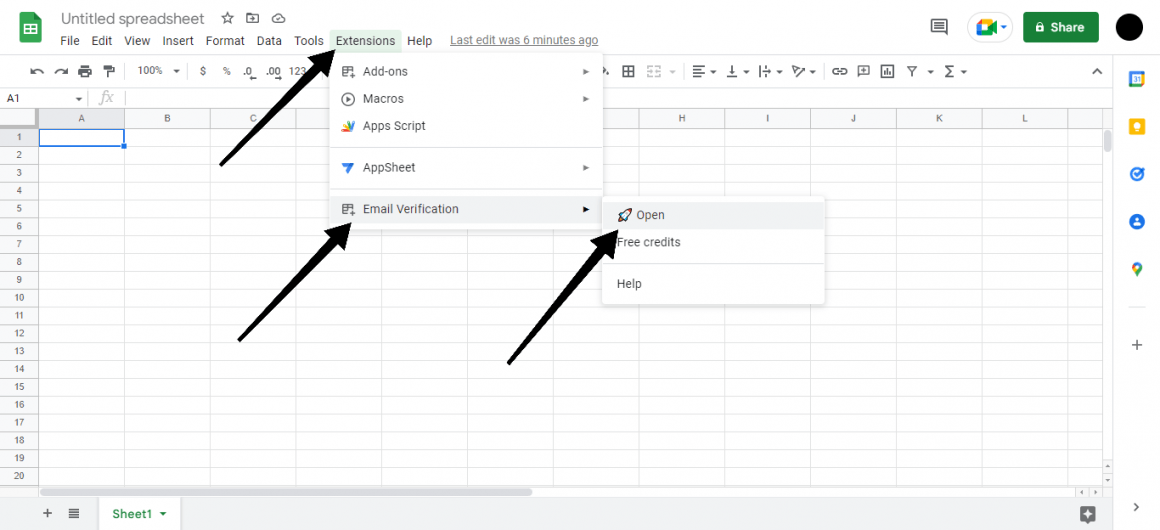 EVADDON will open in a separate box on your right. Under Verify Contacts you will see some steps written on it. Click on the word Template. It will create two columns in the spreadsheet.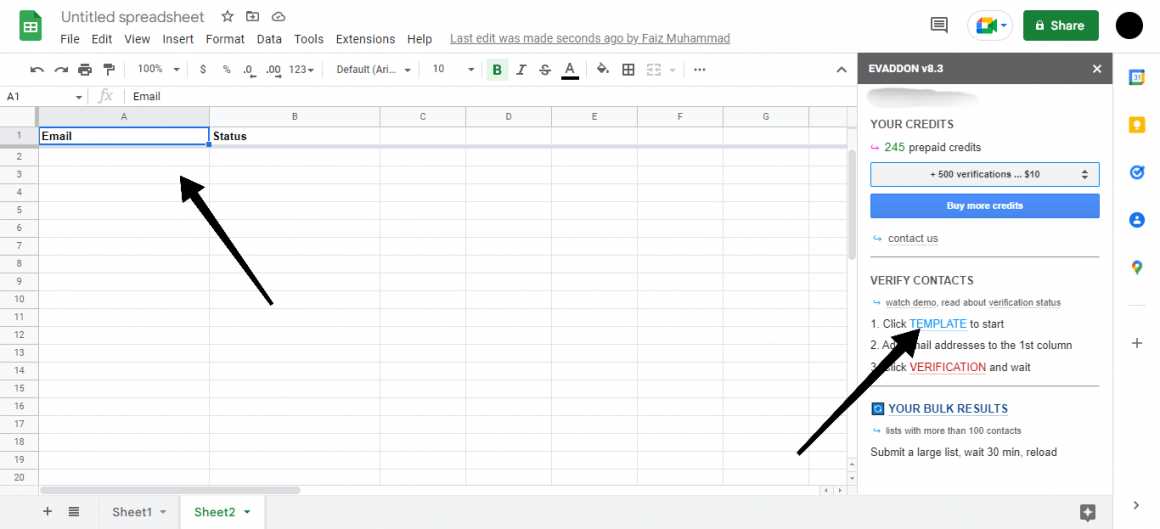 Enter all the Emails you want to verify in the Email Column. Copy from the source list and just paste it.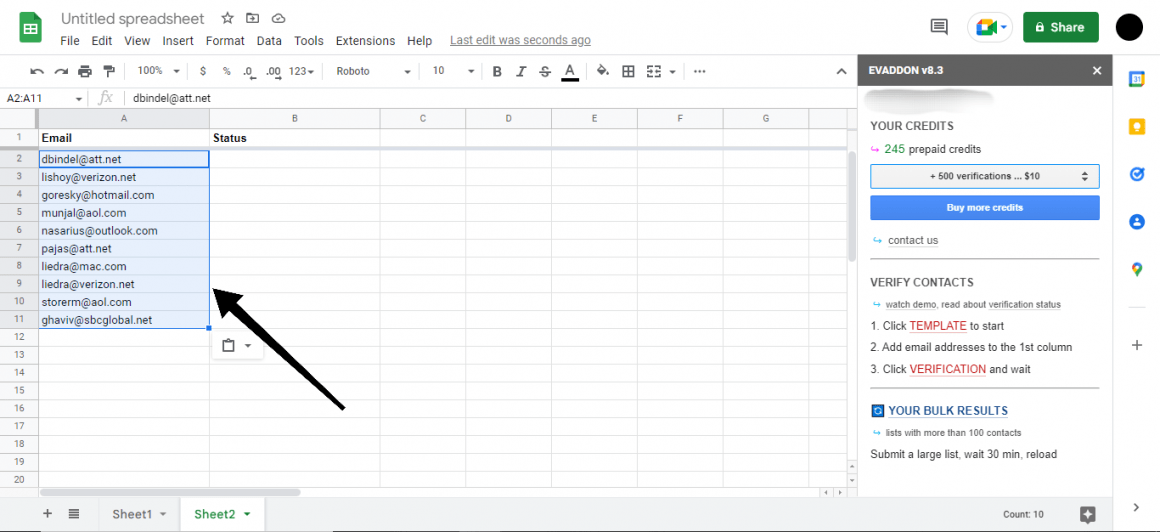 Now look at the EVADDON box. In step 3, you see the verification word. Click on it. It will verify all the Emails and show their status.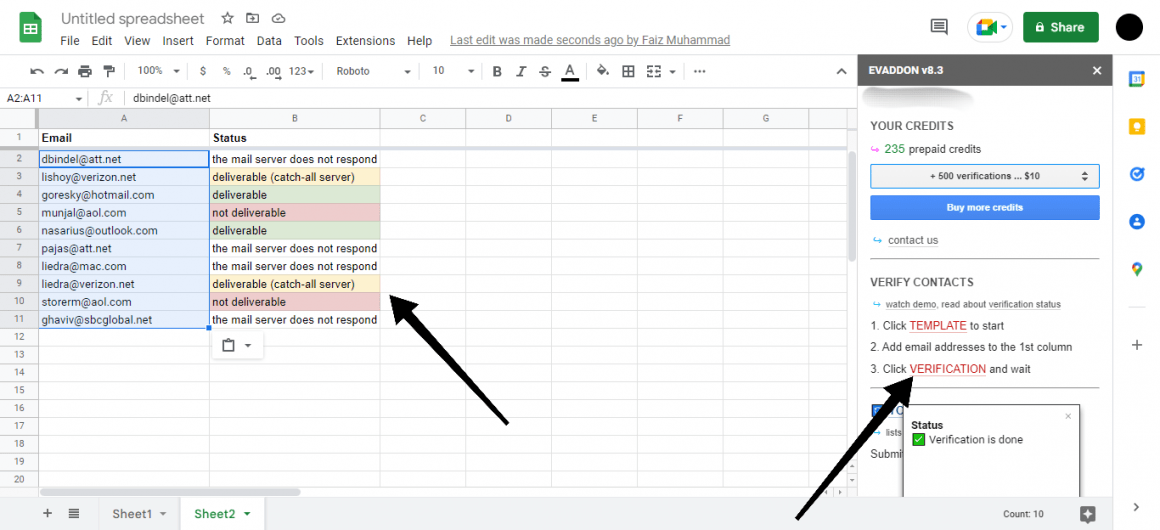 Note that, for each Email Verified, one prepaid credit is used. When you sign up, you get 50 free credits. You can get free ones through promotions and you can also purchase as required.
One last important thing is, what do all these statuses mean which come in front of your Email. Well, one of the following four maybe the status attributed to the Email verified by EVADDON.
Deliverable – The contact is correct and can be contacted safely.
Deliverable (catch all server) – The contact does receive all the Emails sent to it but sending a lot of emails to it could register as spam.
The mail server does not respond – It means that the Email address was ok at some point but currently it might be facing any issue like full inbox folders, server temporarily off or changed settings by domain owner.
Not Deliverable – The address is not correct and cannot be reached.
This is how easy it is to use this email verification add-on to clear your email database of fake and wrong emails.